A walk. Not for the body as much as for the spirit. The calories burned are a bonus, but not the goal.
Dusk. When the sun goes down. Twilight. The meeting of opposites — night and day.
Monkey: Is it night, Maaama?
Me: No, Monkey. It's not night and it's not day.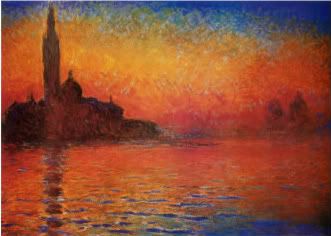 Dusk, Claude Monet, Venice, 1908
The perfect time for reflection…
I took a walk at dusk this evening (Friday). Had Josh drop me off at the store after we had dinner at it'sgrandma's. He was going to wait for me in the car, but I told him to go home and that I'd like to walk.
It was so peaceful. So calming. So freeing. Totally cleared my noisy head.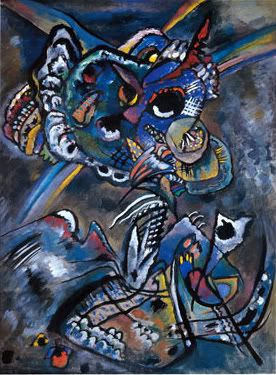 Dusk, Wassily Kandinsky
To me, dusk is a magical time. It has been since high school, when BFF Erna and I used to start our evenings at "dusk" (we'd end our evenings at the Dance Cave — an alternative-music CAVE of the DANCE…)
So peaceful….
The world takes on beautiful glow at dusk.
I'm going to try to make a habit of walking at dusk. By myself or with monkey…. I'd love to drag take a cat along, but I'm not THAT cat-lady…. I think this daily walk could save my sanity. It certainly did today.
UPDATE: Second day in a row of walking at dusk. I took the monkey with me and showed her all the magic things that come out at dusk. The magic trees, the magic mirrors (store windows), the magic cars and garbage…. We looked for fairies and found two.

Sunset on Lamplight Lane, Thomas Kinkaid
By the time we returned home, it was, indeed, night….
This special Dusk Walk turned out to be beautiful bonding for us. I knew it would be when I suggested the monkey throw a jacket on over her pajamas and come out with Maaaama.
Cheaty Highly Recommends…DUSK.