Wow, you Gorgeouses! It's amazing what a little bra shopping AT THE RIGHT STORE — i.e., not at the cheapo maternity store at the mall — can do for your state of mind on what was s'pposed to be just another day!
Yes, I woke up this morning with no special plans. Josh-O was taking the Monkey to play with some other daddies and daughters. I was just going to take my little Rascal out for a little OH BLASPHEMOUS Starbucks Grande Soy No-Water Tazo Chai and a little jaunt around the giant book store as he napped…. But, then. I looked in the mirror.
Yes. I looked in the mirror, and I didn't particularly like what I saw. It was sort of the same feeling I got when I looked at this picture of myself, and then of course posted it for EVERYONE to see….
I was wearing a nice enough shirt. It felt right. But, it didn't look right…. My ginormous MILK BAGS breasts were just out of control. And, it was time to do something about it. Time to start looking good in shirts because these breasts — whether I like it or not — are going to be this big for another three months (until I wean the Rascal). They are NOT shrinking anytime soon, as I'd hoped….
So, I went (with Rascal in tow, of course) to THIS fancy bra boutique. Because I knew this was the only place in Toronto that would have bras in my size….
I was SO intimidated when I walked in. Everyone, and everything, was so fancy and so, erm, perky…. But, I stood my ground, lifted chin, rolled shoulders back, and asked to see their selection of nursing bras.
"We do things a little differently here," explained the skinny girl with the blow-dried hair behind the front desk, "You have to make an appointment.
"Oh, no!" I exclaimed, "You don't understand! It's taken me NINE MONTHS to get here!"
"It's okay," she replied nonchalantly, "We may have a spot available for you…."
And, they did. Thank God. I was soon escorted to a fancy change room, and a woman came in and checked out my boobs. "I'll be right back," she told me….
She came back with this….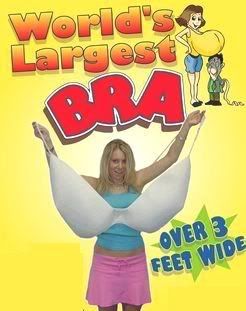 No, seriously, she came back with this bra…in black, of course — because BIG BRAS are NEVER sexy, so you better at least buy it in black, I say.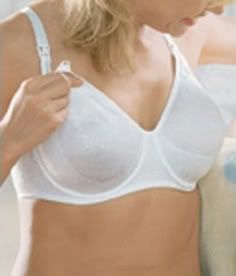 I tried it on and immediately breathed a sigh of RELIEF. "You don't understand how good this feels," I told the lady, "and, OMIGOSH, I look so SMALL!" I didn't, of course, but I looked MUCH smaller than I did in the DEPLORABLE bra I came in with….
Since these bras are TOTALLY expensive, I bought two of them. I figure I'll just have to do a lot of hand washing. So worth it, though.
I'm in love with my new bras — so much so that I tried on a bunch of tight shirts pretty-much as soon as I got home…. Monkey and I had a blast!
Now, on to the good stuff…. Can you guess what size I am?? I'll give you a hint: it starts with the letter G!!!!! Eeeek!
Anyway! Treat yourself to a good bra, the RIGHT bra. You TOTALLY deserve it!