While friends of mine are home teaching their three-year-olds how to write (WRITE) — you know who you are — I'm busy making my little monkey THE BEST GLOP EVAH…and taking pictures of it for my Gorgeouses!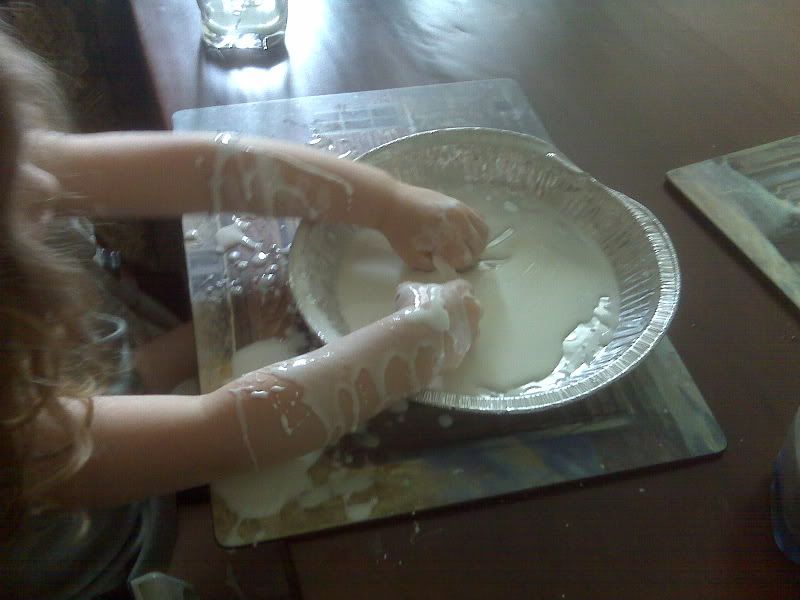 It doesn't look like much, no…. And, it could probably use some food colouring, yes…. But, it is (as Kevin Malone would say) AWWWWWESOME! It's totally gooey and SEEMS like it's wet…BUTITSNOT! It's NOT WET.
Here's what you do:
1. Pour a little mountain of cornstarch in a plate or tray or bowl or whatever;
2. Pour water over top until you get your desired consistency….
Et VOILA! GLOP — Cheaty style!
My mom's best friend, Marsha, gave me this little recipe. She used to be a nursery-school teacher. And, she's been giving me tips — like this one — on how to keep my very clingy monkey busy FOR MORE THAN 2 MINUTES. Ahem. She also suggested beading with cheerios. We'll be doing that one tomorrow.
Marsha has LOTS more suggestions. So stay tuned for more creative crafts, glops and imagination games for kids!