This week, I had the privilege of trying out a session with Carly Cooper. For specific deets on the session, please visit this post at CHEATY MONKEY.
Now that a week's gone by, I can see, even more, what the session with Carly did for me. Every day this week, I consciously took time out to CHILL OUT. On one lucky day, Monkey agreed to stay in her room to play while Rascal napped. So, I made some tea and caught up on some blog reading — a LUXURY for me these days….
Another day, I turned on the TV and caught up on a missed episode of The Young and the Restless. Sweeeet.
Most other days, the Monkey was with me, cuddling with me…. I tried turning on the TV or giving her ideas of things to do, like imaginative play, arts and crafts, and so on. Not an easy task. But, I'm being patient, and receptive, and creative…, and insistent that I get my 45-minute me-time per day!
Carly also got me thinking about things I want to change. Sure, I could write a list of things I want to change, but talking to Carly and getting her immediate feedback was invaluable. I highly recommend Carly's services.
Here's some more information about Carly, and FREE stuff for you: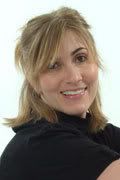 Carly Cooper is a CTA Certified Life Coach for Moms. She specializes in
helping moms who are ready to be honest about their challenges with
motherhood. She inspires them to move forward and become the best moms they
can be.
FREE STUFF: Go to Carly's website to receive your FREE copy of her Special Report called "105 Simple Ways To Attract Inner Balance, Better Relationships, and Work That You Love" and to sign up for Carly's "Balance the Mother Load" ezine.
You can also request a 30 minute complimentary coaching session with Carly. During this call, you'll uncover hidden challenges that have been holding you back and get clear on what you'd like your life to look like in the next 6 months. You'll get direct access to her expertise on self-care, balance, the secrets to a healthy relationship and attracting the career of your dreams so you can avoid the same guilty, unfulfilled feelings that many moms feel.
If you're serious about finding more balance and living the life of your
dreams, call Carly at (905) 597-5454 or email her at
carly@balance-the-mother-load.com