Above: Pure + Simple ALL-Natural Sunscreen and Pure + Simple's SKIN SOFTENING MOISTURE LOTION (LOVE!). I use the sunscreen in the morning and the Skin Softening Moisture Lotion before bed….

This week, I had the pleasure of opening my door to a nice-sized box from my FAVE store, Pure + Simple. After hugging it, covering it in kisses and shaking it a little, I finally opened it. Inside was a long-awaited PURE + SIMPLE ALL-NATURAL SUNSCREEN. They told me it was on the horizon a while ago, and I waited eagerly. And, and, AND, IT'S FINALLY HERE! I've been using it every day since I got it, and I love it.
Unlike other sunscreens, it smells wonderful — that's the first thing I noticed. The scent is really subtle and just DELICIOUS. This is huge for me because I HATE the smell of ALL sunscreens. Especially all those children's sunscreens. GAG. Way too strong to be any good for you and such a byotch to get off; when I used to use the regular drugstore screens, monkey would go to bed STILL smelling of it.
Second thing I noticed was that the Pure + Simple's sunscreen goes on really smoothly. A lot of all-natural sunscreens are tough to rub in. But, this one glides right on, and it absorbs in time for me to put on my makeup — which I could not believe. The sunscreen's an SPF 30, and I put my Ageless Foundation powder — which is also around SPF 30 — on top of it no problem. The sunscreen and the foundation powder give me around SPF 60. So, I'm totally good to go for the day.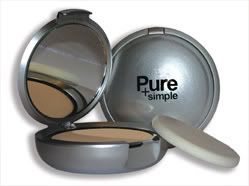 FYI, here are some more specific deets on the sunscreen from the Pure + Simple Press Release…:
Using nourishing and natural ingredients, Pure+simple has developed a line of mineral sunscreens with an SPF 30 for the entire family. Locally produced, the Pure+simple sunscreen line is hypoallergenic and water resistant. In keeping with the company's natural and holistic values, the sunscreens do not contain any chemical fragrances, chemical preservatives or emulsifiers. Also, unlike other natural sunscreens, this one does not leave behind a distinctive white residue.

In contrast to a chemical sunscreen, a natural sunscreen will not be absorbed into your skin, it will remain on the surface, providing a safe and effective barrier against the suns harmful rays.

The natural SPF is provided from two active ingredients – Zinc Oxide and Titanium Dioxide. Natural sunscreens, using zinc and titanium minerals, provide more than just sun protection. Zinc possesses soothing and disinfecting properties. This means that it is anti-inflammatory for sensitive skin and provides anti-bacterial properties for acne. The Titanium Dioxide particles are micronized as opposed to the more controversial nanoparticles. Titanium Dioxide nanoparticles have been included in many recent debates involving the harm upon entering the body's bloodstream.
The GORJ peeps at Pure + Simple sent me a big bottle of the face-and-body sunscreen (that's good for children, as well), AND a few other cute little bottles of their specialty screens: Baby, Sensitive Skin, Oily/Impure, and Anti-Aging. All of which are totally yummy (my new favourite word).
And, just to emphasize, sending me swag does not automatically get one a "Cheaty Recommends"! I stand by the products at Pure + Simple heart and soul. And, I recommend them to EVERYONE.
If you're looking for a sunscreen without all the toxic gunk in it? This is your best bet. I DO have the Jurlique sunscreen and another all-natural one for babies to compare this to. And, I can easily say the Pure + Simple sunscreen is by far the best. It's smoother, smells the best, absorbs the best — without residue — and is the most affordable. It's also water-resistant and non-allergenic.
(Discount good for the entire month of July.)