I'm still sick, Gorgeouses. So, after my, ahem, BUSINESS meeting DOWNTOWN tomorrow morning, I'm off to the doctor's office to secure me some serious meds. I think it's a sinus infection. All I know is I PASSED out after today's, ahem, conference call at 1:30pm — only to wake up 4 hours later in time to roll out of bed and RUN to it'sgrandma's house for a Victoria Day party.
Yes, we had a holiday here in Canada today. Queen Victoria's birthday, or something. So, Josh-O was here to watch the kids while I slept yet another day away (Mother's Day was spent in bed, too… — I sure know how to MILK it, but this sickness sucks).
Anyway, I WAS going to talk to you about the spectacular movie Josh-O and I watched this weekend….
I always liked Brad Pitt. But, just like the whole Danny Gokey – Kris Allen scenario, I'm IN LOVE with Brad Pitt, now. He SO should have won the Oscar for his truly BRILLERS performance in The Curious Case of Benjamin Button, or, at least, scored himself a better intro from Anthony Hopkins at the awards ceremony…. And I think he really needs to leave Angelina Jolie — not for Jennifer Aniston, but — FOR ME. I'd have to talk to Clive Owen about it first, but I'm SURE Clive'd be okay about sharing me with Brad Pitt….
Oh, and speaking of quality movies and my hott boyfriends, I cannot WAIT to see this….
Okay. I need to go to bed. Big day tomorrow. And, frankly, I'm too dizzy and nauseous from this sinus infection to hang out any more tonight. But, LOVE….
Before I go, though, meet my new BABY…!
It's the Blackberry Curve. My Blackberry Pearl was a good start-up blackberry. But, I'm in the big leagues now. Heh. I needed a big blackberry — sorry, a big PINKberry — with a complete keyboard. And, yes, it has to be pink. And, if I get tired of the pink, I can ditch this case and get a green, or orange or PINK CAMO case. And, for the record, no, this is NOT product placement — I don't DO that. No, this is pure unadulterated LOVE. And, speaking of which, even though I spilled the ENTIRE new bag of cat kibble on the floor WITH BROKEN GLASS…
…kitties still love me. Especially since they had tuna, salmon and cat treats for breakfast, lunch and dinner (couldn't pick up more cat food because vets are closed on Victoria Day!).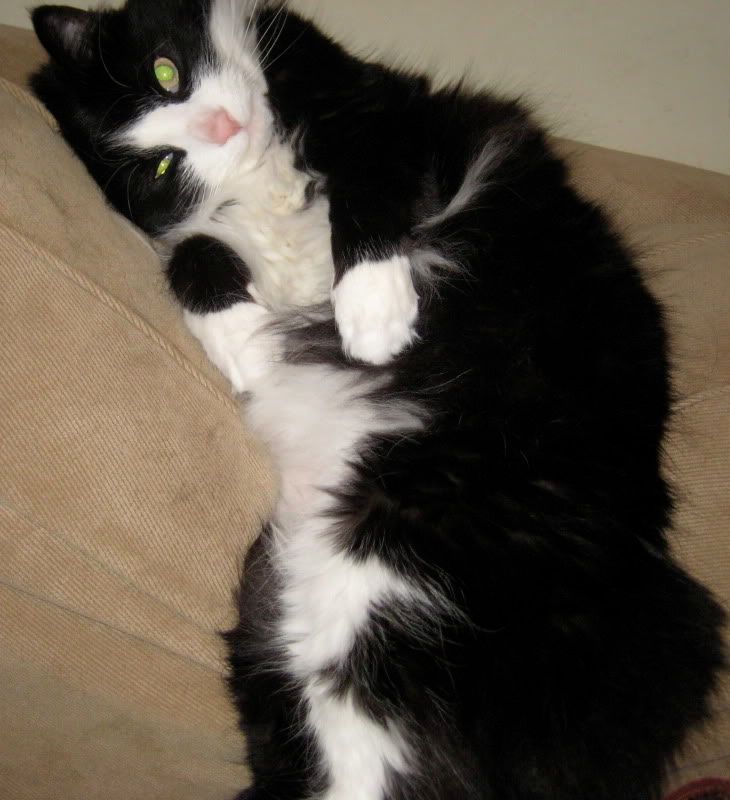 God, I love this cat. And Brad Pitt. And Clive Owen. And Kris Allen. And Michael Cera, Jack Black. Pinkberry. And little Rascal with his Victoria Day sparkler. I'd post a picture of said cuteness, but Josh-O passed out in Monkey's bed earlier, and all the party pics are on his boring black blackberry.
LOVE!
xo Haley-O
&nbsp
14 Responses to "My New Baby…."