Where to START! Let's start with MILES! My cousin came in THIRD PLACE in the SO YOU THINK YOU CAN DANCE CANADA competition. He came into the competition with the LEAST training of ANYONE and NO technique, and he's leaving a full-on DANCER.
The show's winner was Nicholas (NICO) Archambault, the seriously GORJ contemporary dancer from Montreal, who was a favourite from the very beginning. Here are Nico and Miles doing their guy-guy dance in the final four showdown. The style is called "Capoeira." Check it!
CONGRATULATIONS, MILES! We love you and look forward to cheering you on throughout your successful and exciting career. Thanks for dancing for us these weeks. It's been a TRUE HONOUR and GIFT to watch your dream unfold before our eyes ON NATIONAL TV. (I can't say that enough.) LOVE!

Thank you ALL so much for your awesome (and passionate) recommendations for exercise videos. I got so desperate today that I dragged my sorry arse over to the giant book store and bought Jillian Michael's 30 Day Shred.
As soon as I got home, I slipped it into the DVD player and WENT FOR IT. And, what do you know, JUMPING JACKS within the first HALF A minute of the workout. That can't be safe — especially if you're NOT wearing the right bra for that, ahem. But, who cares, because I was basically sweating from the first half-minute to the last 10 seconds — just about half an hour, the PERFECT amount of time for me to workout (aka the LONGEST I can keep my kids off of me…, sort of.)
So, the DVD was pretty good. A GREAT workout (even if not the safest). It's a circuit training program: a mix of cardio, strength training and ab work, in that order. There are three levels of difficulty, so I shouldn't get TOO bored. I did Level 1, and it was JUST FINE thankyouverymuch. When I DO get bored, if not before then, I'm taking a lot of your advice and trying out THESE two: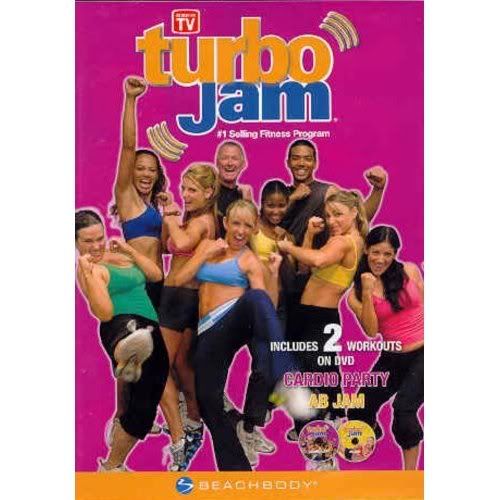 …and the DANCING WITH THE STARS workout DVD….I may just cave and buy it RIGHT NOW….
Anyway, I was happy with today's workout. The vid's a little monotonous. The music is pretty-much non-existent. But Jillian Michaels is tray motivating, and she and the two girls demonstrating the moves have serious abs, which is DEFINITELY inspirational. And, it's all about the inspirational if we're going to do this thing…. If we're going to do this thing…every day. Wish me luck!
The only real "problem" was a certain someone — we'll just call him "RASCAL". But, said PROBLEM may have worked to my benefit (we'll see how I feel tomorrow morning). Jumping jacks and skip-rope with a 20-pound toddler (if he's EVEN 20 pounds yet…) in your arms has GOT to have its benefits….

There was something else I was going to talk about, but I forget what it was! Oh well, in the meantime, check my new button from the GORJ MRS. FLINGER (WHO, by the way, was one of the two designers responsible for the gorjness of THIS VERY SITE!)….

Isn't it GREAT? I'm so fahklempt about this! Not only did she make the button for me, but she's posted it on her website, honouring Kids Deserve Art as one of her "Santa's Little Helpers: Products and People We Love." I didn't ask for this, and I'm blown away by the love and generosity. THANK YOU, MRS. FLINGER! MWAH!
Love!
xo Haley-O
&nbsp
14 Responses to "Cheaty's Home Fitness Agenda PART II & MILES MILES MILES!"