I guess if you must categorize this blog, it's a "mommy blog," and I would be a "mommy blogger." I mean, it doesn't take a (much coveted and still-bragging-about) listing on alltop.com to tell me I'm a mommy blogger. Some bloggers who are moms are averse to being called a "mommy blogger." But, not me. While I realize there's much more to me than "MOM," I'm definitely a mom first, and I've never been more creative and inspired than I have since becoming a mom.
I was just thinking about this last night, if you must know, Gorgeouses. Went to bed and felt all small. I mean, not PHYSICALLY small. Because PHYSICALLY, I'm definitely still "BIG MAMA! BIG MAMA BIG MAMA BIG MAMA" — as the Monkey likes to say, often, while running around the main entrance area at my gym. Anyway, I lay down (finally), turned OFF Trading Spouses, hugged my Tempurpedic pillow (love…) and very very almost nearly kind of sort of (did I mention almost?) started to suck my "fumb." But, I held back, smacked my lips a few times, gave some thanks and sank, like a baby, into a deep sleep — for the usual TWO consecutive hours of sleep I get a night (you wonder why I'm thinking of taking up thumb-sucking).
I was feeling small because, for that second there, I was sans kids. EVERYONE in my house was sleeping. And, for that little bit, I was just…me (whoddat?). It was epiphanic really. I mean, there were no sparks flying or ecstatic eyes-rolling-back but a realization that there's still a "me" — a "me" that's definitely changed because it's ineluctably (WORD) intertwined with all these other lives that DEPEND ON ME FOR THEIR VERY SURVIVAL EVERY SINGLE SECOND OF THE BLOO-Y DAY! But, it's still me. The same me that thought radio stations were wired to the live singers who'd play on command (all radio guy had to do was plug in a wire). The same me that thought I could swing to the MOON and extract POWERS from my orange lamp….
So, while, yes, there's definitely a "me" — with a very small voice caught among a toddler, an infant and one three cats — I'm mostly MOM. Which probably means I REALLY NEED TO GET OUT (girls' night, anyone?). But, in the meantime….
Let's talk strollers. I have many….
I have the Swan Snap N Go….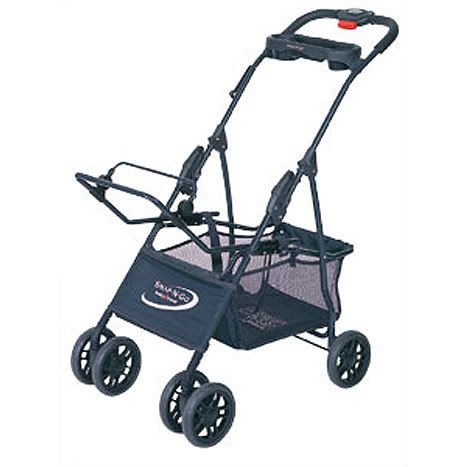 It holds the Rascal's car seat. I LOVE it! Cheaty HIGHLY recommends.
I have a McClaren umbrella stroller….
Folds up great in the car…. Highly recommend….
I have the coveted BUGABOO FROG….
The Cadillac of strollers, I know. But, SO worth it. Lovelovelovelovelovelovelove….
And, finally, I have the Peg Perego Aria double stroller….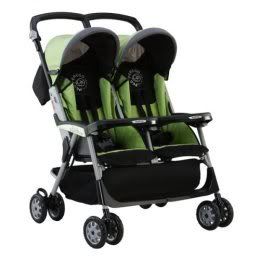 In MINT green…. So fresh.
So, what are the celebs strolling? Kind of what MOI is strolling! Check today's THURSDAY THIRTEEN!
1. Gwen Stefani — Bugaboo (and multi-coloured Bugaboo cover! coo!)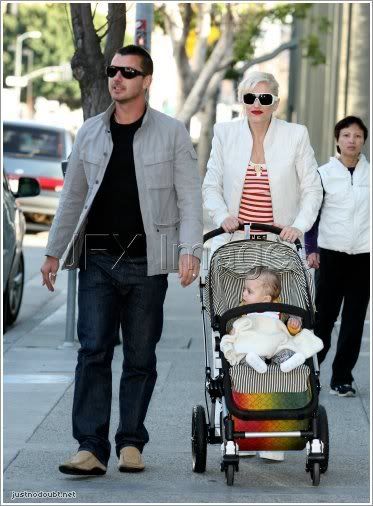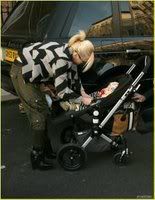 2. Gwen Stefani — Ziko (GOLD…waaaaant it)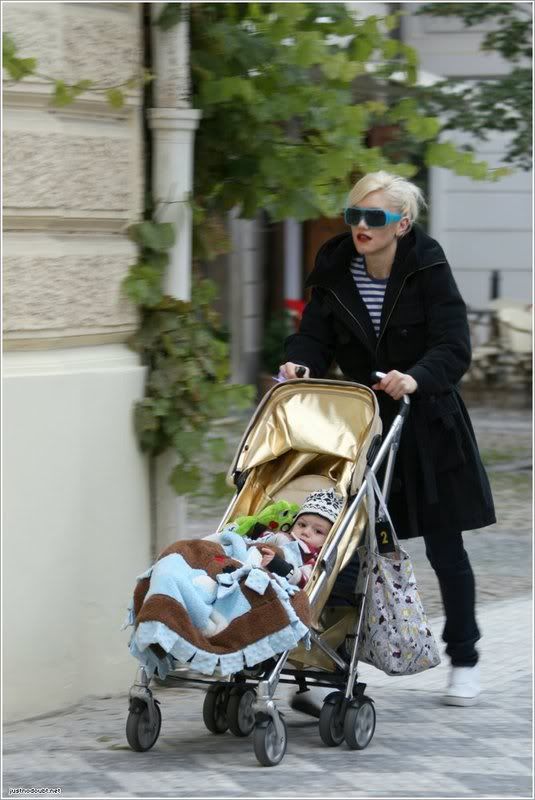 3. Keri Russell — Orbit
4. Heidi Klum and Seal — Stokke Xplory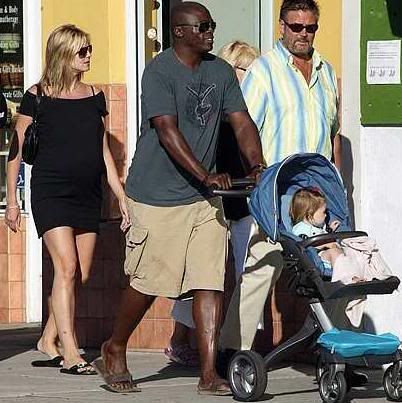 5. Maggie Gyllenhaal — Silver Cross Pram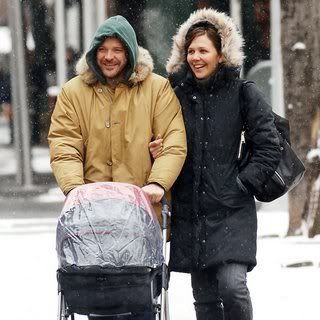 6. Naomi Watts — Bugaboo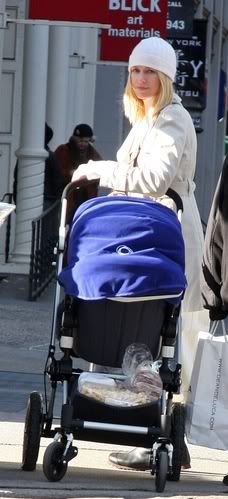 Photograph by PR Photos / Janet Mayer
7. Brad and Angelina — Maclaren Twin Techno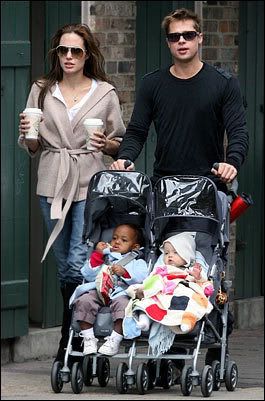 8. Elisabeth Hasselbeck — Maclaren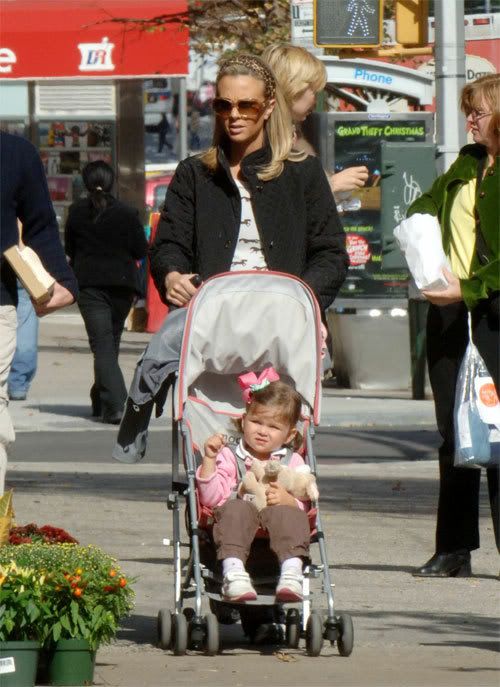 9. Gwyneth Paltrow — Bugaboo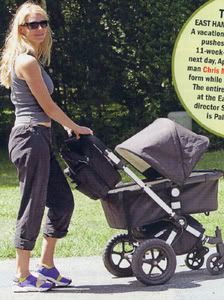 10. Ben Affleck and Jen Garner — Bugaboo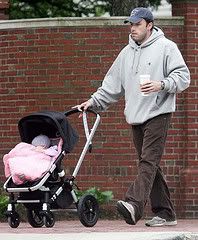 11. Kate Hudson — Bob Revolution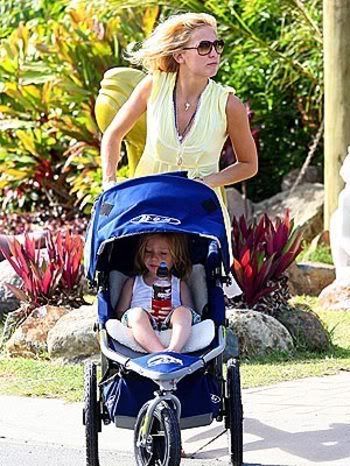 12. Brooke Shields — Phil & Teds 4-in-1 Sport Buggy
13. Tori and Dean — Silver Cross Pram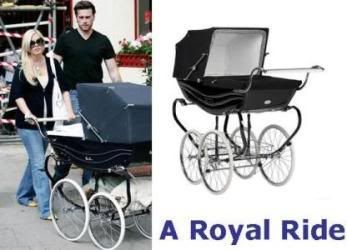 Okay, in the course of writing this post, I've developed what's probably Rascal's stomach flu. It'sgrandma's been in bed for 2 days with it. I HOPE it's not my turn. But, stuffed-up nose, sore throat and the aches all over tell me this is probably my lucky day. Pray for me, Gorgeouses!
&nbsp
33 Responses to "Me, "Mommy Blogger"; or, 13 Celebrity STROLLERS"