Do to the unforeseen circumstances that most of you know about…, this contest was cut short. I apologize for that! The winners of the THE LITTLE STAMP contest — LAVENDULA! and MULTITASKING MOMMY! — will be contacted by The Little Stamp Company. Thank you EVERYONE for participating.
Love! xo Haley-O
~*~*~*~*~*~*~*~*~*~*~*~*~*~*~*~*~*~*~*~*~*~*~*~*~*~*~*~*~*
Gorgeouses, we have a very exciting contest for you and your little monkeys! Mompreneur Lee-Ann O'Neill has a wonderful product that I think you'll all love! Why do I think you'll love it?: a) because it's brillers; b) because your kid will LOVE IT; c) because teaching your monkey to write his/her name has NEVER BEEN SO EASY…see?
…and, MOST IMPORTANTLY, d) BECAUSE ALL THE CELEBRITY KIDS ARE DOING IT! Yes, Jewels and Pinstripes — the company putting together FAB SWAG BAGS for celeb kids — has selected Lee-Ann's stamps from her Little Stamp Company as one of the items in this year's back-to-school swag!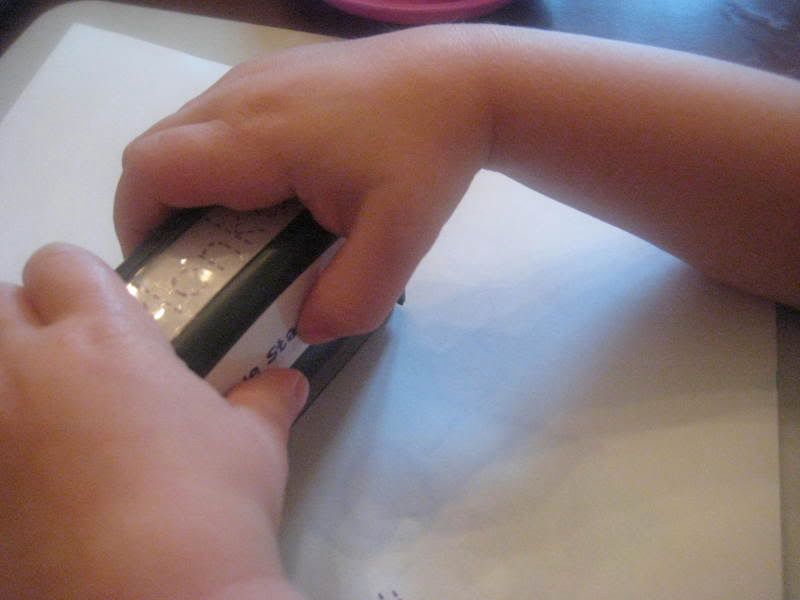 Since SO MANY OF US here at Cheaty Monkey LOVESES the CELEBSES, here's a list of celebs enjoying our favourite the Little Stamp Company's "Signature" and "Funky Font" stamps: the children of Angelina Jolie and Brad Pitt, Brooke Shields and Chris Hency, Courtney Cox and David Arquette, David and Victoria Beckham, Denise Richards and Charlie Sheen, Faith Hill and Tim McGraw, Gweynth Paltrow and Chris Martin, Heidi Klum and Seal, Jennifer Garner and Ben Affleck, Kate Hudson and Chris Robinson, Kelly Ripa and Mark Consuelos, Liv Tyler and Royston Langdon, Mark Wahlberg and Rhea Durham, Reese Witherspoon and Ryan Phillippe, Sarah Jessica Parker and Matthew Broderick, Sharon Stone and Will and Jada Smith!
In addition to the celeb factor, of course, I'm excited by the fact that the stamps use ECO-FRIENDLY ink that is also water-based, non-toxic, and washable. We are ALL about the ECO-FRIENDLY here at Cheaty Monkey! Yeaaahhh!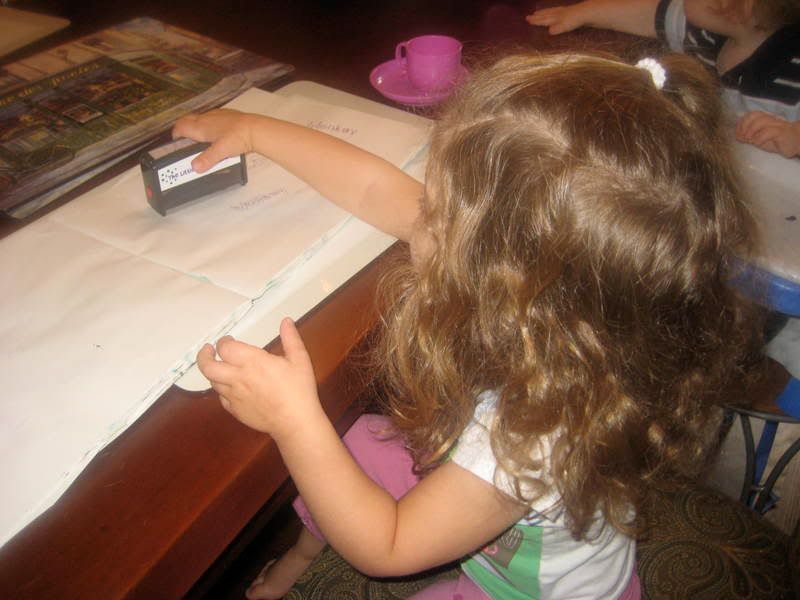 Now, let's add YOUR name to that list of celebrities with Little Stamps! Thanks to Lee-Ann, I have TWO stamps to give away! Winners receive their choice of either the signature stamp (which the monkey enjoys) or the funky-font stamp, which is great for older children!
All YOU have to do to enter is LEAVE A SILLY COMMENT below! Easy! Bring on the silly, though, Gorgeouses! Let's have some fun with this! (One comment per Gorgeous — otherwise, NO RULES!)
I'll draw the two winners out of my fancy hat ON VIDEO, as usual, on Sunday, Sept. 21.
And, check it — YOU'RE ALL WINNERS: Lee-Ann has set things up so that CHEATY MONKEY READERS GET 15% OFF ALL LITTLE STAMP COMPANY PRODUCTS (Christmas is just around the corner, Gorgeouses — so stock up!). All you do to get your discount is enter "cheatymonkey" in the coupon code. And, while you're there, check Lee-Ann's GREAT TIPS on how best to use the stamps to teach your child to write!
Good luck to all! And, as Monkey likes to say….SET READY GO!!!
~Contest runs until Saturday, Sept. 20 at 6pm.~